Paintball Shooting | Splatter Paintball - Yakkala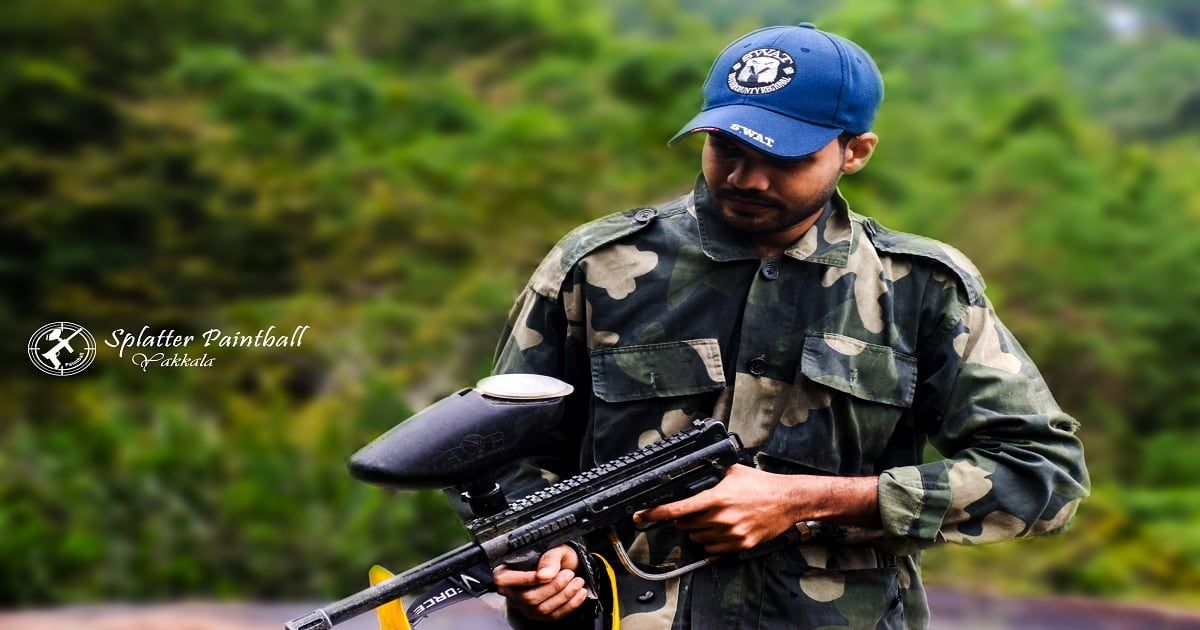 Paintball shooting is a very wonderful & amazing experience that you shouldn't miss in your life.
How to get There
This place is situated 4-5 km away from Yakkala town on Yakkala-Radawana road. When you're coming along this road, you'll find a small road to the place from the main road and you have to take your turn from there. A name board which is named "Splatter Paintball" is displayed at the place where you have to take your turn.
Parking facilities are available there. You have to park your vehicle and walk through the jungle to reach the base camp and the office. There are 6 main packages you can choose from according to your choice. We took the basic package and it is very reasonable and worth the price we paid. If you want to know about package details you can check their official website and Facebook page. https://www.facebook.com/paintballsrilanka/
You have to ready your team and there should be a minimum of 10 players. You have to inform them before going there. Don't go there on rainy days.
In the basic package, there are three main missions and each member of your team will get 120 bullets. If you want more bullets you have to pay an extra charge but I think this bullet count is enough for these three missions and the 10 players.
Before you start the game, the instructors will teach you everything about the game. It includes how to get points, how to operate the gun, safety instructions, etc. The instructors were very friendly and helpful. Listen to them very carefully and it will help you during the game.
Mission One
There's a flag in the middle of the battlefield. You have to capture the flag and take it to the bunker on the opposite side. You will have 8 minutes for this mission. You have to take down all your enemies to go through this mission successfully. Remember to save your bullets. There are rocks, tyres, trees and barrels to cover on the battlefield.
Mission Two
In here, an abundant small house is there and a flag is there also. One team will protect the flag while staying inside the house and the other team has to attack the enemies and capture the flag. There's a margin around the house and the team which is inside the house will not be allowed to cross the margin. 25 minutes are allocated to each round and you can play two rounds. Here also you can see barrels, tyres, trees and rocks to cover.
Mission Three
This mission is in the full jungle and there are no artificial hiding & covering spots like tyres, barrels, etc. Natural rocks, trees, and Bushes are the only places to cover. There Are two bunkers and each one has a flag in there. You have to capture the flag of the opposite side. You don't need to take down all your enemies. If you can capture the flag first you can win the game. 25 minutes are allocated to this mission also.
Among these three missions my favourite one is the 3rd mission but all three missions are very interesting and enjoyable. They will give a face mask and a jacket to wear.
You are not allowed to remove your helmet until the mission is finished because removing your helmet during a mission can be dangerous. Bullets can hit your eyes.
If you're running out of your bullets you can exchange your gun with a dead member of your team but be careful to not notice your enemies. There is a nice viewpoint near the 2nd mission ground and you can take your amazing photographs there.
Great experience for your day-to-day busy life. Come here, enjoy the game and the surrounding environment. Feel natural beauty. Don't ruin it and don't throw garbage.
| | |
| --- | --- |
| Province | Western |
| District | Gampaha |
| Distance from Colombo | 33.5 km |
| Nearest Town | Yakkala (4.5km) |